Mellissa Ifill
The Guyana Prison Service does not attract much public acknowledgement, attention or scrutiny under normal circumstances. Great awareness of and discussion on the GPS occur only when something goes drastically wrong – and much has gone drastically wrong over the past two decades – these include prisoners escaping, rioting, protesting, setting fires (including one in 2016 Georgetown prison that resulted in the death of to 17 prisoners), attacking and sometimes killing prison officers and trafficking illegal items in prison. Additionally discussions about the conditions and nature of imprisonment usually only ensue in the aftermath of the preceding 'gone wrongs' or following high profile crimes. Despite this lack of continuous public attention, the Guyana Prison Service (GPS) has embarked upon a process to change from a mainly punitive to a mainly rehabilitative institution. This effort at transformation however has been difficult since the security institution has been confronted with and has to address numerous systemic and historically derived deficiencies and challenges. The latter will be the subject of this blog post.
The Guyana Prison Service (GPS) was created under Section 4A of the Prison Act, Chapter 11:01, as a public authority, but the Act does not specify its essential functions. Notwithstanding this oversight, the GPS has an important function to perform in the criminal justice system. The main responsibility of the Guyana Prison Service as noted in its submission to the Disciplined Forces Commission (2004) is "to ensure the safe custody of the offenders who have violated the law of the land and are placed in physical confinement (Prisons) in order to protect the society".
As a corrective institution, the GPS has the dual responsibility of protecting society by creating secure incarceration arrangements while simultaneously engaging in activities and initiatives to facilitate the rehabilitation and reintegration of offenders into the society. This dual function is premised upon an inherited conventional notion of justice that views prisons as public liabilities/burdens rather than as an important tool in the societal transformation process and than can be used to generate economic resources while rehabilitating the offender.
Historically and in the contemporary era, the Guyana Prison Service has been unable to adequately fulfil this dual function of protecting the society and rehabilitating lawbreakers as it has continually been deficient, particularly in terms of financial resources, accommodation and qualified staff.
Prison Conditions
Multiple reports over the past decades graphically underscore the depressing conditions in Guyana's prisons. The United States Bureau of Democracy, Human Rights and Labor annual Country Reports on Human Rights Practices detail the ongoing crisis in the GPS. Confirming the dismal circumstances in Guyana's prisons was a 2017 Citizen Security Strengthening Programme prison survey report that was funded by the Inter-American Development Bank. These studies reaffirmed the findings of previous studies such as the 2001 Prison Reform Report that was conducted by the International Consultancy Group of the British Government Cabinet Office Centre for Management and Policy Studies; the Report of Board of Inquiry into the Escape of Five Prisoners from Georgetown Prison on February 23, 2002; The Guyana Prison Service 2001-2011 Strategic Development Plan; the Criminal Law Review Committee Report; The Report of the Disciplined Services Commission submitted to the National Assembly in May 2004; The 2009 Ministry of Home Affairs Review of the Guyana Prison Service.
The main concerns and problems highlighted in the aforementioned studies are:
Gross overcrowding which is inimical to rehabilitation and reintegration in society;
Inadequate security personnel, arrangements and equipment – i.e insufficient monitoring and warning mechanisms in the prisons;
Inhumane conditions in the prisons that both staff and prisoners have to endure;
Multiple violations of prisoners' human rights;
Insufficient alternatives to incarceration offered by the criminal justice system.
Overcrowding & Inhumane Conditions
Guyana has six main prisons located in all three counties of Demerara, Essequibo and Berbice, one of which caters for female prisoners. These are Georgetown [which prior to the massive fire that razed the wooden buildings had an official capacity of 600], New Amsterdam (Male) that is designed to accommodate 275 individuals, New Amsterdam (Female) which has an official capacity of 75, Mazaruni which has an official capacity of 390, Lusignan which accommodates 120 and Timehri which was designed to cater for 90. The total official capacity for all six prisons prior to the fire was 1550. Overcrowding has always been a feature of the prison locations and the three largest prisons, Georgetown, Mazaruni and New Amsterdam have been the most problematic, with the problems magnified in the former. At August 31, 2019, Guyana's prisons housed 2099 prisoners.
New Amsterdam housed 477 – exceeding its male capacity by 133 and under its female capacity by 6;
Mazaruni (current under construction) housed 354 – under its capacity by 36;
Lusignan housed 147, exceeding capacity by 27;
Timehri housed 128, over its capacity by 38;
The remaining 993 prisoners are housed at Georgetown A & B locations which are still emergency housing arrangements that vastly exceed capacity.
In the wake of the 2016 fire that razed the wood prison in Georgetown, overcrowding has worsened. Just under 1/3 of the prison population are currently housed in sheds in a field adjoining Lusignan Prison and these prisoners face an extremely harsh and inhumane existence including inadequate water and sanitation, poorly prepared meals; congested filthy blocks; some are forced to sleep on the floor others on filthy mattresses. Health care is inadequate and rehabilitative training or recreational activities are minimal to none. According to the US Bureau of Democracy, Human Rights and Labor in its 2018 Country Report on Human Rights Practices for Guyana, "Prison and jail conditions, particularly in police holding cells, were reportedly harsh and potentially life threatening due to overcrowding, physical abuse, and inadequate sanitary conditions." Meanwhile the UN Working Group of Experts on People of African Descent reported in 2017 that the conditions at the Lusignan Prison were horrific and that the cells were not suitable for human habitation. According to the report, prisoners complained of grossly unsanitary conditions including inadequate potable water, lengthy confinement in their cells with limited opportunities for sunlight.
Apart from convicted prisoners, a large numbers of remand prisoners awaiting trial are forced to live in these circumstances and their frustration can intensify as they face court delays, postponements and lockdowns for extensive periods since the prison system is understaffed. The preceding conditions not only violate the human rights of prisoners but they also force prison officials to work in insecure and dismal conditions and simultaneously place the security of both prisoners and officers at risk. Apart from Georgetown which is under construction, all the prisons are old; overcrowded with little space to institute comprehensive programmes to effectively rehabilitate prisoners, decaying physically, structurally insecure and in dire need of renovation or rebuilding. Altogether these circumstances have proven to be unsafe for both correctional officers and inmates alike. The newspaper headlines over the past two decades tell the story: Stabroek News February 25, 2010 "Public Safety…Inside Story: The problems of the Prison Service; Stabroek News February 7, 2010 "Fatal Prison Brawl …Inmate had Ranted about Killing Someone."; Kaieteur News February 15, 2011 "Officers Fear Security Threat at Georgetown Prison"; Kaieteur News March 1, 2011 "Dwindling Prison Staff Will be Dire for Administration."; Kaieteur News August 18, 2019 "Prison Service Understaffed, Overcrowding still an issue"; https://www.rt.com › World news Jul 10, 2017 "Inmates set fire to Guyana prison, 4 escape, 1 officer killed …";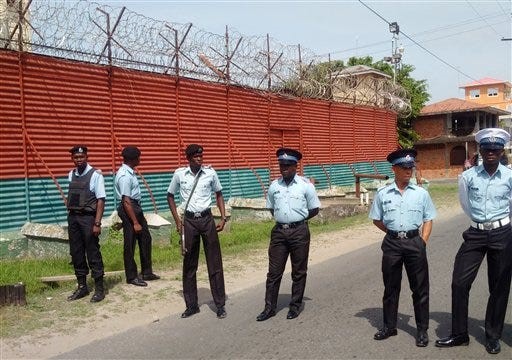 Police stand guard outside Georgetown Prison after a riot and fire at the facility in Georgetown, Guyana, Thursday, March 3, 2016. 17 prisoners died in the fire as they protested conditions inside the prison in the capital of the South American country, authorities said. (AP Photo/Bert Wilkinson)
Inadequate Staffing
In 2003, the authorised strength of the GPS was 452 while the number of officers employed was 369 which within the context of significant increase in the overall number of prisoners and in particular violent prisoners, endangers both officers and inmates (Disciplined Forces Commission Report 2004). In 2019, the GPS staff was just over 500 and it was short of staff by 101. Note also that the statistics hide the fact that many of the prison officers are women and civilian staff who do not secure the majority of male prisoners.
.
The Prison Act Chapter 11:01 requires that, "Every prison officer shall at all times carefully watch the prisoners and shall use the utmost vigilance to promote industry." However, satisfying this condition is impossible in times when one prison warder has responsibility for three locations simultaneously.

The GPS noted as far back as 2003 that its greatest challenge to training officers is "recruiting … persons with the requisite qualifications/academic ability (Disciplined Forces Commission Report 2003, 251). This problem has persisted. Consequently, staff levels continue to be inadequate and prison officers are not properly trained to properly supervise the sizeable number of petty offenders who are given custodial sentences and the growing number of violent offenders. Security is further compromised with reports of widespread corruption, mismanagement, bribery, favouritism and dishonesty in the GPS. It is also reported that visitors pay prison officers to smuggle cell phones to family members in prison. Officers are also reported to sell marijuana directly to prisoners who in turn sell to other inmates. Raids conducted by the GPS always unearth contraband items that likely were brought into the prison by officers. Again, news reports tell the story: Guyana Standard June 19, 2019 "Prison officer allegedly caught with weed at Camp Street …" https://www.guyanastandard.com › Court; Demerara Waves October 25, 2016 "Female prison officer allegedly caught smuggling ganja inside the New Amsterdam Jail"; INews Guyana Mar 5, 2019 "Drugs, weapons seized in Lusignan Prison raid" https://www.inewsguyana.com › Crime.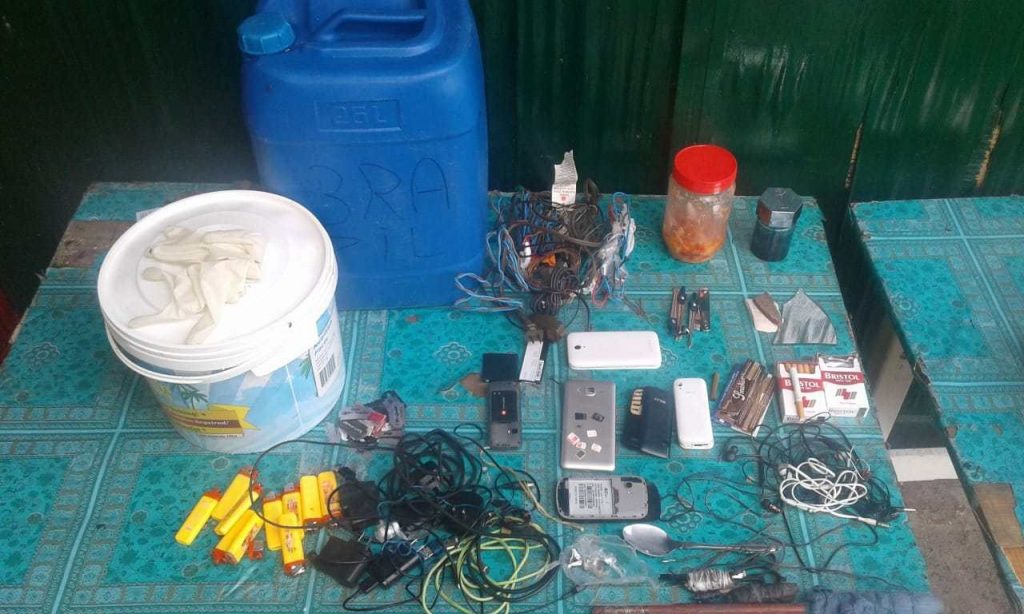 Prohibited and illegal items found at the Lusignan Prison [Guyana Police Force photo Mar 5, 2019]
Prohibited and illegal items found at the Georgetown Prison [Guyana Police Force photo Dec. 8, 2018]
Reforming the Guyana Prison Service
While great attention has been placed on reforming law enforcement and the judicial system in Guyana, far less attention has been placed on comprehensive reform for correctional institutions and the penal system in general. The three systems, however, are inextricably connected within the criminal justice system and it is also necessary that sufficient attention be paid to the needs of the penal system.
Recommendations for improving the system that have emanated from the previously mentioned reports include:
Increasing the capacity, renovating and transforming the Mazaruni Prison to house high profile dangerous inmates;
Increasing staff levels and training to deal with increasing number of inmates;
Reviewing employment policies including salary structures to ensure qualified persons are employed and those that perform with distinction are promoted;
Auditing all prisoners, separating and accommodating them according to security need, audit and release remand prisoners in appropriate instances;
Create a manual that sets out security standards and procedures and create monitoring systems to oversee their implementation;
Enhanced collaboration between the GPS, the GPF and the judiciary since the prisons are negatively affected by deficiencies in the court system.
Arising from these recommendations, the GPS has been targeted for reform and a number of initiatives have been undertaken, particularly over the past decade to transform the prison environment, improve professionalism among prison officers and employ more effective restoration and reintegration strategies. These include the:
Passage of the Prison (Amendment) Bill 2009 to modernise the prison service, enhance security within the prisons and offer increased protection for officers but which could contribute to further abuse of prisoners by prison officers;

Separation of first time young offenders from hardened criminals;

Introduction and review of skills training and behavioural change programmes;

Conducting human rights training and other professional training programmes for recruits;

Establishment of a sentence management board to assist in the management of the sentences of convicted prisoners, including vulnerable prisoners or those suffering from any disabilities;

Establishment of Prison Visiting Committees which institutionalise civilian oversight of prisons, monitor the condition in prisons and seek to ensure the protection of inmates' human rights;

Design of the Justice Reform Sector Programme which has placed emphasis on eliminating the backlog in both the civil and criminal cases, upgrading the court environment, digitising the court registries, training prosecutors and enhancing legislation and court procedures for Magistrates and Judges, training prosecutors and mediators in alternative sentencing systems to reduce the overcrowding in the prisons.
The transformation process has commenced but there is much, much more work to be done.