By Tammy Ayres
Guyana's prisons have been described as 'potentially life-threatening' and 'not fit for human habitation'. These life-threatening conditions can be attributed to systemic and historically derived deficiencies that continue to plague Guyana's Prison Service (GPS) today. These include overcrowding, poor infrastructure, violence, physical abuse and unsanitary conditions, all of which have a detrimental impact on the staff and prisoners that live and work there. Prison officers are not only detrimentally impacted by the prison environment and its decaying infrastructure (e.g., which induces psychological distress, depression, burnout, post-traumatic stress disorder, substance use, violence, corruption, disorder, absenteeism and a high staff turnover) but their responsibilities often entail 'physical exertion and mental anxiety'. This helps to explain why the international evidence shows prison officers are at a greater risk of mental ill-health than other occupational groups. In fact, being a prison officer is a dangerous and stressful job that involves daily intimidation and on occasion, actual physical violence. Nowhere is this truer than in Guyana. While the experience of prisoners in Guyana has been captured elsewhere (see Cameron, 2020; Sarsfield and Bergman, 2017), this blog focuses on the frequently forgotten prison staff who work across Guyana's five prisons; three of which are colonial era prisons that were constructed and operated according to the needs of the colony (see Anderson et al. 2020); colonial legacies that are still evident today.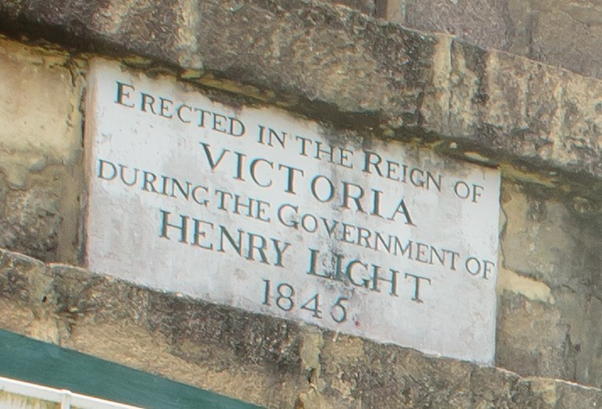 The post-colonial prison is shaped – haunted – by the colonial past and this is true for prison officers as well as the regimes, infrastructure and policies. Staff played a key role in the colonial prison as they were expected to use 'their moral influence to encourage good behaviour', provide educational classes and enforce labour, which often led to guards using 'cart whips and cat o' nine tails' on prisoners to ensure compliance and productivity. The cruelty and mistreatment of prisoners by staff that plagued the colonial prison was attributable to a lack of regulation, which had created 'a regime of fear and cruelty' in some of Guyana's jails. Although Regulations were finally introduced in the late 1800s outlining the duties of prison officers, which were implemented in line with British practices (e.g., CO 111/67, CO 116/207 and CO 111/384), it did not stop these abuses. Abuses that have not only been documented in the past but as the ensuing discussion will show, are still prevalent in Guyana's prison service today.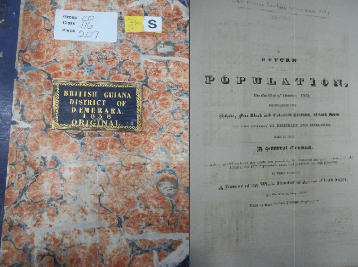 The lack of penological resources characteristic of the contemporary Guyanese prison were also prevalent in the 1800s; prison guards were difficult to recruit, while overcrowding and poor conditions meant that many prison officers 'left employment, or retired early, due to stress and overwork'. Historical records show that even the medical officers – employed to care for prisoners – were responsible for the death of inmates, as their role often revolved 'around diagnosis and discipline rather than treatment and care'. In fact, the decaying infrastructure and overcrowding has a negative impact on staff and prisoners today as well as in the past: 'J. Brumel noted in 1875, that incarceration caused terror to convicts, but also had a depressing influence on officers' and their families, 'who often lived inside prison compounds'. This remains the case today, with many prison officers and their families living in close proximity to the prisons in which they work, particularly at Mazaruni where officer's families live on the prison complex, which is only accessible via boat (see pictures below).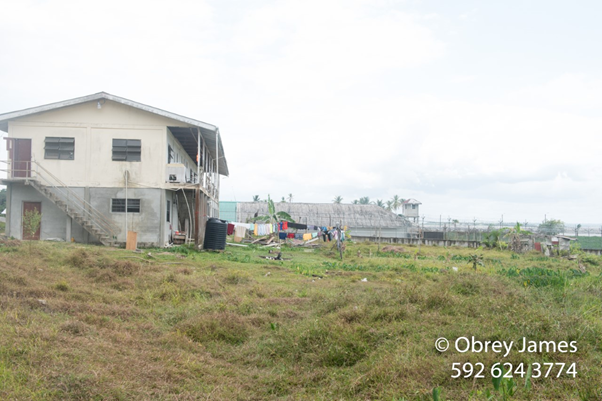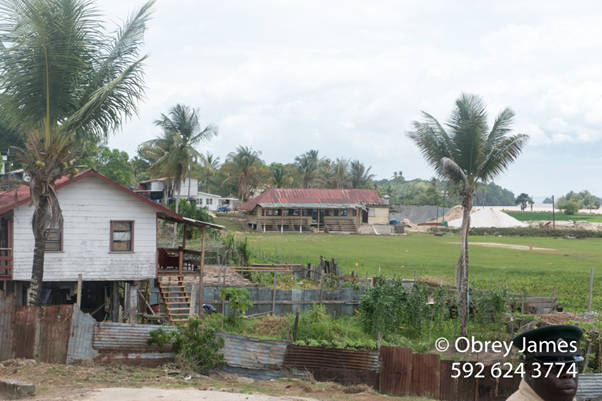 Her Majesty's Penal Service was changed to Guyana's Prison Service in 1957 and was established by the Prison Act No. 26. Guyana's Prison Service (GPS) aims 'to provide a secure environment for Staff and Offenders' and has just over 500 staff working in the service – 58% are men and 42% are women (GPS, 2017) – with the Director of Prisons having overall responsibility for all of the prisons in Guyana, while the Deputy Director holds responsibility for Operations. As nearly half of all GPS staff 'are women and civilian staff who do not secure the majority of male prisoners' there is a shortage of staff for the male estate – about 295 male prison personnel for around 2,074 male prisoners that comprise 96% of Guyana's prison population – that results in a low staff to prisoner ratio, which has had 'a significant impact on the personal security of inmates and guards alike'. Feelings of safety and security are integral to rehabilitation and building healthy prisons. Feeling safe is also the most important determinant of distress among prisoners and staff, illustrating that both safety and security are important issues that need to be addressed since the majority of prisoners (89%) felt less safe in prison than anywhere else they had lived (Sarsfield and Bergman, 2017). In fact, safety and security are basic human needs, which if unsatisfied can actually exacerbate levels of violence, disorder and rule-breaking in prison (see Hoke and Demory, 2014). Although prisons have a dual role of public protection alongside the rehabilitation and reintegration of prisoners, it has been unable to adequately fulfil either since its inception (see Ifill, 2019) as many of the problems facing GPS today, were also prevalent in the past.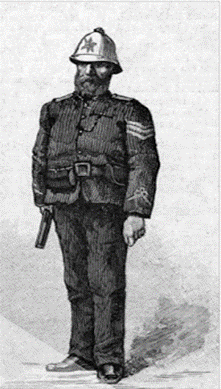 The contemporary prison service in Guyana is plagued by the same problems evident in the colonial prison, which according to the Director of Prisons (2020) rests on 'the absence of physical infrastructure and human resource'. In fact, the physical infrastructure remains the same as in colonial times, particularly in the colonial era prisons that have not really changed. Internationally, it is well documented that the prison environment (conditions and culture) can adversely affect staff and prisoners, particularly prisons described as 'not  fit  for human  habitation' like those in Guyana. Such conditions also feed into and influence the way staff see and treat prisoners detained in these prisons. Research from the global north has continually shown that 'the routine and bureaucratic denial of humanity in prison and the tendency to construct prisoners as the other 'them' creates spaces where inhumane treatment may occur…making brutality possible, even inevitable' (Crawley, 2004). The use of violence by staff against inmates, the depersonalisation of prisoners (prisoners are merely bodies to be counted) and staff detachment are also well-documented techniques implemented by prison officers to cope with their job, which can also precipitate corruption.  In fact, the prison environment, its culture and the high concentration of criminals in confined spaces 'not only makes those  deprived  of  their  liberty  prone  to  instigating  corruption;  it  may  equally  serve  as  a  catalyst  for  corrupt  practices  and  abuse  among  prison  service  officers,  particularly  if  coupled  with  a  lack  of  accountability  and  oversight' (UNODC, 2017). Thus, safety and security are also compromised by 'widespread corruption, mismanagement, bribery, favouritism and dishonesty in the GPS' as the correlation between levels of corruption and ill-treatment in prisons globally is well documented (see UNODC, 2017). Although incidents of violence and corruption are sporadic in GPS, they still occur. Prison officers often have fewer qualifications, less training, low morale, low salaries, fewer career opportunities and are often held in lower regard than other officials leaving them susceptible to corruption (Ifill, 2019; UNODC, 2017). This has led to calls to increase the pay of prison officers in Guyana to compensate for the daily risks they face and in attempt to eliminate corruption.
Corruption occurs on a continuum and can vary from turning a blind eye to contraband in prison to aiding escapes and undertaking financial misdemeanours. Although levels of corruption vary across Guyana's prisons, levels of corruption have been described as concerning, with 'High-Levels of Corruption' being evident at the overcrowded and heavily criticised Lusignan prison (also described as 'not fit for human habitation'). In fact, Minister Benn said, 'we are losing more prison officers than we are getting due to corrupt practices.' In Guyana in 2016, two hundred and thirty-nine prison officers – just under half of all officers (47%) employed by GPS – were charged and sanctioned with misconduct, that fell into two main areas; the possession of prohibited articles and assault on one another (GPS, 2017).
Possession of Prohibited Articles: Cigarettes, Cannabis and Rum: it is acknowledged that prisons are not closed and total institutions (if they ever were), which means contraband flows freely in and out of prisons via visitors, prisoners, civilians and delivery drivers, as well as prison staff. In fact, staff are one of the main supply routes for contraband, with 28% of inmates in Guyana reporting that staff brought drugs into prison (Sarsfield and Bergman, 2017), which is supported by several high profile incidents across all of Guyana's prisons (e.g., in New Amsterdam, Camp Street, Mazaruni and Timehri). The trade in contraband, particularly illegal drugs in prison, namely cannabis, is facilitated by prison wardens and Police Officers because it is 'big business' and there is a lot of money to be made. However, it also indicates corruption, illegal earnings and criminality, which is often accompanied by violence, and is increasingly being associated with (organised) criminal gangs (see Owen and Grigsby, 2012).
Violence and Assault: Shivs and Shanks: there are incidents of violence by staff against prisoners, by prisoners against staff and prisoners against prisoners, some of which have led to death. In fact, eight out of ten prisoners had witnessed inmates being beaten and a quarter said they had been attacked or beaten in the previous six months illustrating why prison was deemed to be an unsafe place (Sarsfield and Bergman, 2017). Not only have there been instances of prisoners overpowering staff and stealing their weapons, which includes guns, but prisoners also create makeshift weapons which are then used to attack fellow inmates and/or staff, which has on occasion resulted in death:
'sharpened spoons…boring out your eye…a sharpened spoon up an officer's nose…they also had sharpened wires, which they could push up under your ribs.'
However, staff also perpetrate violence against prisoners, and according to Minister Benn 'some unfortunate persons, who perhaps [have] money or from whom money could be extorted…they [prison officers] will take a picture or a video and put knives to his throat and say 'pay money to us…or else.' While most prisons are violent, the State have been accused of creating the 'conditions' necessary for violence to occur in Guyana's prisons. The overcrowding, poor infrastructure and staffing issues, when combined with the toxic mix of prisoners, including those with mental health issues who have always been, albeit inappropriately, sent to prison rather than a mental institution, has led to violence, unrest and murder. In fact, reports suggest that:
'If they (prison authorities) know that a person is not well behaved, they deliberately transfer them to the Capital Section where you will be beaten. It's a dog eat dog situation.'
Corruption and violence varies across Guyana's prisons. However, corruption at Lusignan prison is said to have 'significantly increased after prisoners were transferred there following the deadly fire at the Camp Street prison in March 2016'. In fact, the confiscation and seizure of contraband instigated the 2016 fire at Camp Street, which was described as 'a war zone… full of burnt bodies' where anyone in uniform was seen as the enemy. The more recent fire at Lusignan prison last July was also related to the seizure of contraband as well as the beating of a prisoner by four prison officers, incidents which subsequently led to the prisoners setting 'fire to the building, demanding that the drugs be returned'. While it is unclear how rife corruption is in Guyana's Prison Service, contraband, particularly cell phones and drugs, help prisoners to cope with imprisonment; a sentiment also iterated by prisoners at the Camp Street Enquiry: 'they have to get them cause it wouldn't be comfortable for them to serve their prison time.' Therefore, it is difficult to ascertain if corrupt prison officers who collude with prisoners do it to make money or do it out of compassion due to the harsh conditions' prisoners are forced to endure in Guyana's jails. This is particularly pertinent since many of the prison officers come from the same communities as their custodians, which is further compounded by a lack of research/knowledge in this area. Although GPS have tried to eliminate corruption, by offering financial incentives (e.g. the Guyana Prison Service offer $25,000 to expose criminal activities in the prison system), as well as recruiting new staff who are currently being trained 'to manage prisons without corruption', the demand for contraband will remain as it makes life easier for prisoners and staff alike. Drugs like cannabis have a calming effect on the jail, which makes the job easier for prison officers and may help to explain why some prison officers occasionally turn a blind-eye and/or facilitate its supply (see Cameron, 2020). Unfortunately, due to market dynamics, while demand exists there will always be someone willing to take the risk to ensure their supply, meaning that eliminating corruption and violence is an ongoing challenge facing GPS, particularly while the demand remains amongst prisoners that is largely driven by the poor and 'potentially life-threatening' conditions prisoners are forced to endure.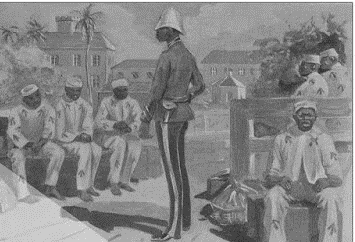 Therefore, it can be seen that Guyana's Prison Service continues to be haunted by its colonial past, and that includes its staff. During colonisation, the British blamed isolation, overcrowding and a lack of prospects on the low morale of prison officers. There were very few rules and regulations outlining their role, which meant violence and mistreatment were rife, but justified, as prisons, like the plantations contained dehumanised and often animalised bodies that led to an increase in the number of punishments being administered within the prisons. It is in this context that prison officers and prisoners occupy historical spaces of distress, decay and violence. In fact, the conditions and problems facing GPS today are similar to those in the colonial past despite the plethora of reports, commissions and recommendations that have been made over the years. All grades of prison personnel in the contemporary Guyanese Prison Service – as they did in the past – experience physical and mental exhaustion, poor health, stress, anxiety as well as being over worked and under paid, that has for some resulted in excessive alcohol use that according to Governor P.E. Wodehouse, could result in death. However, there is very little research on prison officers in Guyana, which is something the MNS in Guyana's Jails project seeks to rectify. The dearth of research on the experience of prison officers in the global south means that research from the global north is often extrapolated and applied to explaining the experiences of prison personnel – as in this blog – despite its inapplicability and irrelevance, illustrating the need for research that captures the lived experiences of prison officers working in Guyana's prisons. The role and impact of effective, well-trained and committed staff at all grades should not be underestimated since research – albeit from the global north – shows it can impact on staff motivation and retention; determine the success of a prison or new regime; impact on safety and security; everyone's health and wellbeing; levels of distress, violence, drug use, self-harm and suicide; as well as recovery and rehabilitation. Although there have been calls for more professionalism and training in GPS, caution must be taken to ensure that the institutional reproduction and dominance of colonial practices does not take precedence and obscure the epistemologies and experiences of the global south that removes the colonised from their own history. An 'erasure and forgetting' known as colonial amnesia (see Kerrigan, 2020).
Tammy Ayres is an Associate Professor in the School of Criminology, University of Leicester, UK.
The author would like to thank Clare Anderson, Kellie Moss and Queenela Cameron for their comments/input on an earlier draft of this blog. Thanks, must also go to Kellie Moss for the photographs.